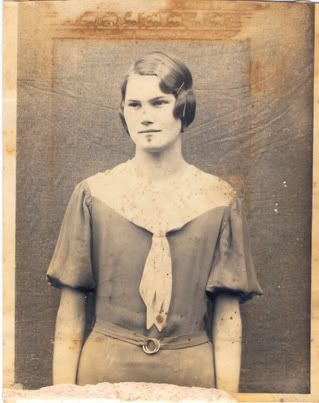 Heaven is a wonderful place,
Filled with Glory and Grace,
Oh, to see my Savior's face,
Heaven is a wonderful place.
You are forever in my heart, Grandma. Some of my favorite childhood memories are from the summer weeks that I would spend with you. We would watch soap operas and you would make hamburgers and fried potatoes for supper. You'd tease me about being a city girl when I didn't want to help you in the garden. Then you'd let me wear your big floppy straw hat and I'd help you pick cherry tomatoes. We played dominoes, rummy, and UNO. You would let me win the last game. ;)
I'll always remember the time you pulled my first loose baby tooth, the three months I lived with you after the fire, our "you cook and I'll wash the dishes" agreement, and playing wiffle ball with you and the cousins out in the field.
Remember the time that you laughed so hard that you had to run to the bathroom because I didn't know that I was supposed to take the plastic bag of giblets out of the Thanksgiving turkey before I baked it? Oh, my.... "City girl," you said.
I'll remember your wit, your sense of humor, your smile. Your heart was filled with so much love and you loved each and every one of us the same. Nothing made you happier than seeing your children and grandchildren gathered together. Nothing made you smile more than a brand new grand baby.
The last time I saw you, you recognized me. You knew my name and you knew who I was. You were wearing the sweetest hat and sparkly earrings. You looked at me with the most adoring eyes.
I told you, "I love you."
You said, "I love you, too, Sweet Pea."
Our hearts smiled at each other.
*My grandmother left this world and went home to be with Jesus, today, March 1st, 2008. I'm sure that she's dancing on the streets of gold with my Grandpa Earl, cracking jokes with David and Squeak, and wrapping Billy in a big, cozy quilt. I will miss her always.*